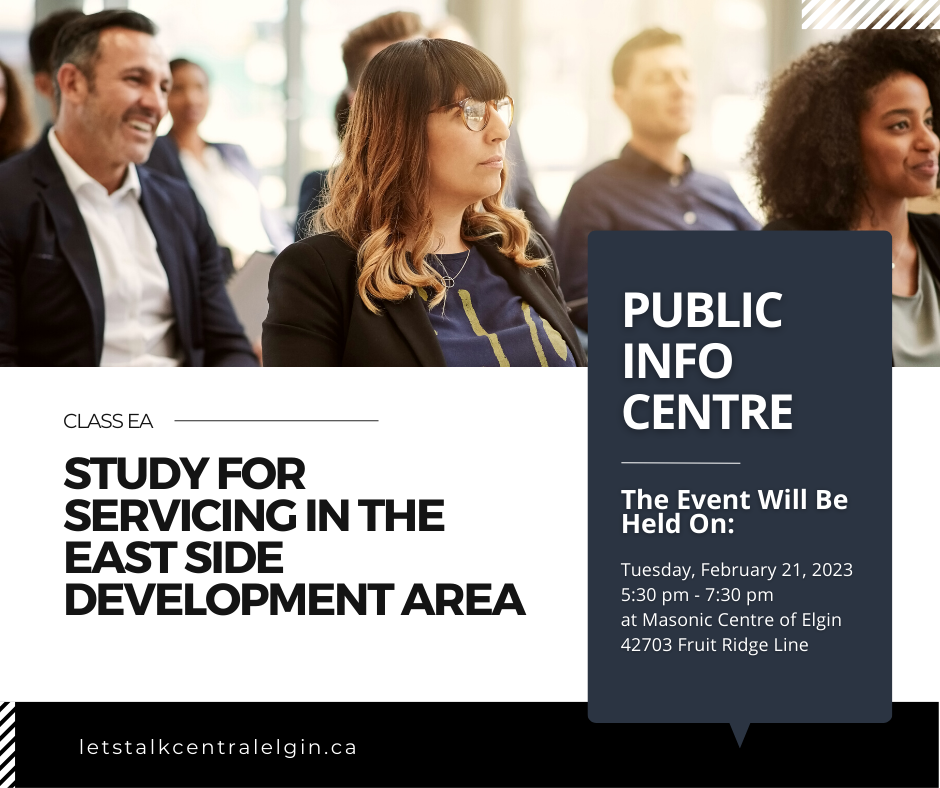 The Municipality of Central Elgin (Central Elgin) is undertaking a Municipal Class Environmental Assessment (Class EA) Study for sanitary (wastewater) servicing in the East Side Development Area (ESDA). The ESDA consists of employment area land located within Central Elgin to the east of the City of St. Thomas. This study will identify alternatives including locations for a new Wastewater Treatment Plant (WWTP) to support growth within the ESDA. The study will also consider the potential for a WWTP to service other nearby areas such as the former Village of Belmont (Refer to study area map).
How can I participate in the study?
A Public Information Centre (PIC) is planned to provide a project update, present the problem and opportunity statement, and identify the proposed evaluation criteria. Potential Alternative Solutions will also be identified for evaluation in later phases of this project.
The PIC will be held in-person and will consist of a drop-in format. Project team members will be present to assist with any comments or questions that residents or other stakeholders may have. Meeting details are below:
DATE Tuesday, February 21, 2023
TIME 5:30 pm to 7:30 pm
LOCATION Masonic Centre of Elgin (42703 Fruit Ridge Line, ST. Thomas)
Information from the PIC will be made available on the Municipality of Central Elgin's website following the meeting: www.letstalkcentralelgin.ca/
This study is being undertaken in accordance with the requirements of Schedule 'C' projects, as outlined in the Municipal Class EA document (2000, as amended in 2007, 2011 and 2015) which is approved under the Ontario Environmental Assessment Act.
Please contact a member of the project team below to be added to the study contact list, or if you have any questions or comments:
Geoff Brooks
Director of Infrastructure & Community Services
Municipality of Central Elgin
450 Sunset Drive
St. Thomas ON N5R 5V1
gbrooks@centralelgin.org(External link)
Tel. 519-631-4860, ext. 247
Paula Hohner, M.Sc.Pl, MCIP, RPP
Senior Environmental Planner
Stantec Consulting Ltd.
600-171 Queens Avenue
London ON N6A 5J7
paula.hohner@stantec.com(External link)
Tel. 519-675-6666
Comments received through the course of the study will be considered and documented in the Environmental Study Report. Information will be collected in accordance with the Municipal Freedom of Information and Protection of Privacy Act. With the exception of personal information, all comments will become part of the public record. Alternate formats of project information are available upon request