Each year, the Municipality of Central Elgin goes through an annual budget process to develop budgets that support municipal operations and offer the programs and services needed to sustain the quality of life in the community.
The Budget is more than just numbers. It reflects itself in the activities and services you receive, which are in line with the Council's strategic plans. Whenever your garbage is collected, you turn on the faucet, your road gets cleared of snow, you visit a park, or take a stroll on a sidewalk, trail, or the beach, you see your tax dollars at work. The Municipality is committed to providing efficient and cost-effective services to our communities.
Background
Property Taxes - your tax bill includes taxes collected for 3 levels of government: County, Municipality and Education. Below is an illustration showing the breakdown.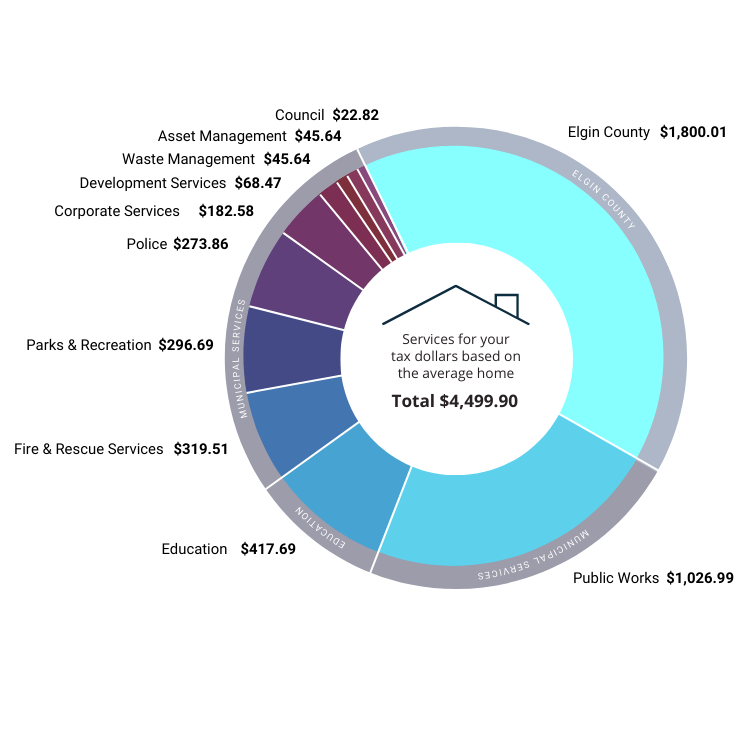 Municipal Services Include
Animal Control
Building Services
By-law Enforcement
Cemeteries
Development Services
Economic Development
Fire and Emergency Services
Waste Collection
Municipal Drains
Road Maintenance & Capital Works
Street Lighting
Parks and Recreation
Water and Wastewater
County Services Include
County Roads - Capital Works
Land Ambulance Services
Social Services and Housing
Public Health Services
Library Services
Homes for the Aged
Land Use Planning Approval Authority
Economic Development
The Council of the Municipality annually approves the operating budget and the capital budget.
What is a Capital Budget?
The Capital Budget supports the development of new, and the maintenance / rehabilitation of existing infrastructure, such as roads, parks, sidewalks, buildings and vehicles and equipment.
What is an Operating Budget?
The Operating Budget includes the expenditures required to deliver day to day services. It also includes revenues such as user fees, interest income, and building permit fees etc.
2023 Budget
The Municipality budget totals $47.5 million:
$28 million in operating expenses
$19.5 million in capital expenditures
Sections
Budget Deliberations
| | | |
| --- | --- | --- |
| Date | Phase | Reference |
| January 17, 2023 | 2023 Budget Discussions Begin | |
| April 5, 2023 | 2023 Budget Discussions | |
| April 13, 2023 | Budget Adopted | |
Past Year Budgets
Financial Statements
The consolidated financial statements reflect the assets, liabilities, revenues and expenses of the Municipality of Central Elgin.
The Municipal Act, 2001 requires that every municipality in Ontario prepare annual audited financial statements. For more details about requirements and understanding financial statements, please visit the Ministry of Municipal Affairs and Housing.
2022 Financial Statement
View the 2022 Financial Statement. The report includes the following sections:
Introduction
Management's Responsibility for Financial Reporting
Independent Auditors' Report
Financial Position Statement
Financial Reports
Operations and Accumulated Surplus
Change in Net Financial Debt
Statement of Cash Flows
Note to Financial Statements
Schedule of Segment Disclosure
Past Reports
User Fees
User fees help the Municipality keep the cost of property taxes down by making sure that services which only a few people choose to use are not paid for by everyone. Please visit the User Fee page for more detailed information on the present and past year fees.
Asset Management
Central Elgin's Asset Management Plan outlines the Municipality's asset management practices, state of the infrastructure, levels of service, and life cycle and funding plans.