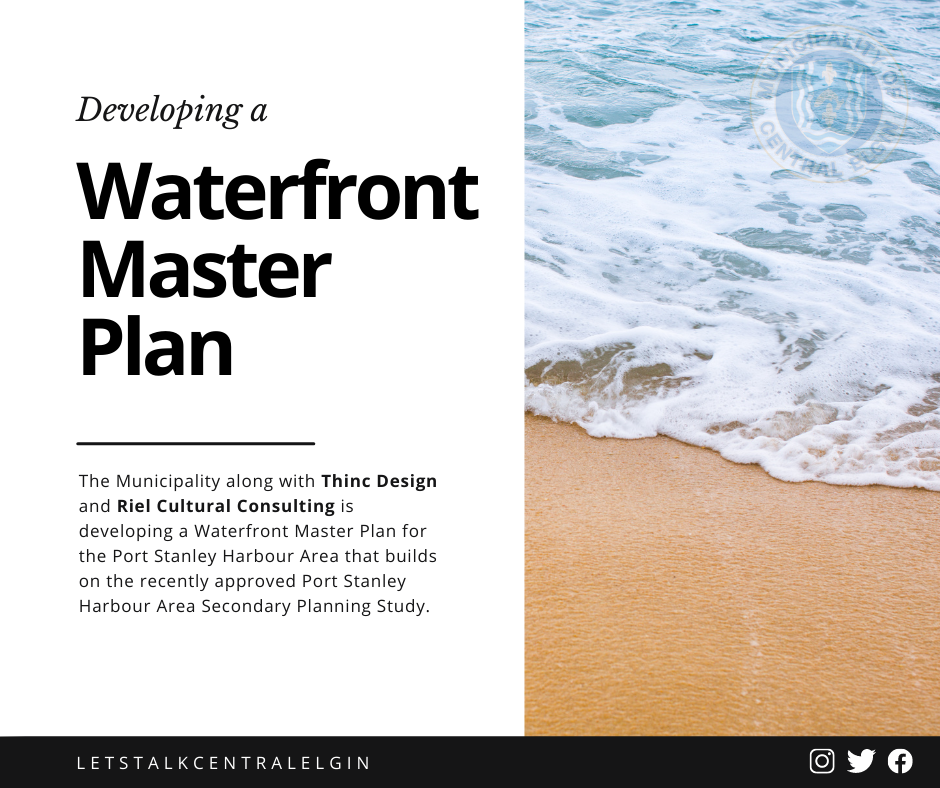 The Municipality of Central Elgin understands the importance of the Port Stanley Waterfront to both residents and visitors. The Municipality along with thinc design and RIEL Cultural Consulting is developing a Waterfront Master Plan for the Port Stanley Harbour Area that builds on the recently approved Port Stanley Harbour Area Secondary Planning Study.
This Master Plan will, in consultation with the community, determine the future use and configuration of the harbour community facility area over the next 15-20 years.
The Master Plan study area is comprised of approximately 13.6 ha of public realm space, which includes the waterfront lands south of Main Street, as well as lands east and west of Kettle Creek south of Bridge Street. This includes the West Breakwall, Hofhuis Park, and West and East Pier Walkways.
The Municipality of Central Elgin wants to develop a Master Plan that will best serve the community, which means we want to hear from YOU to find out about waterfront services and infrastructure that are needed in the community.
Our Lets Talk Page offers tools for the public to participate such as asking questions, sharing their thoughts and ideas through pin drops and more, as well as keeping in touch with our project leaders.
On January 20th we will be hosting a Virtual Public Information Session in which we will circulate more information on how to attend and be a part of soon! Stay tuned!
To learn more and get involved please visit
#waterfrontmasterplan#PortStanley#GetInvolved#wewanttohearfromyou