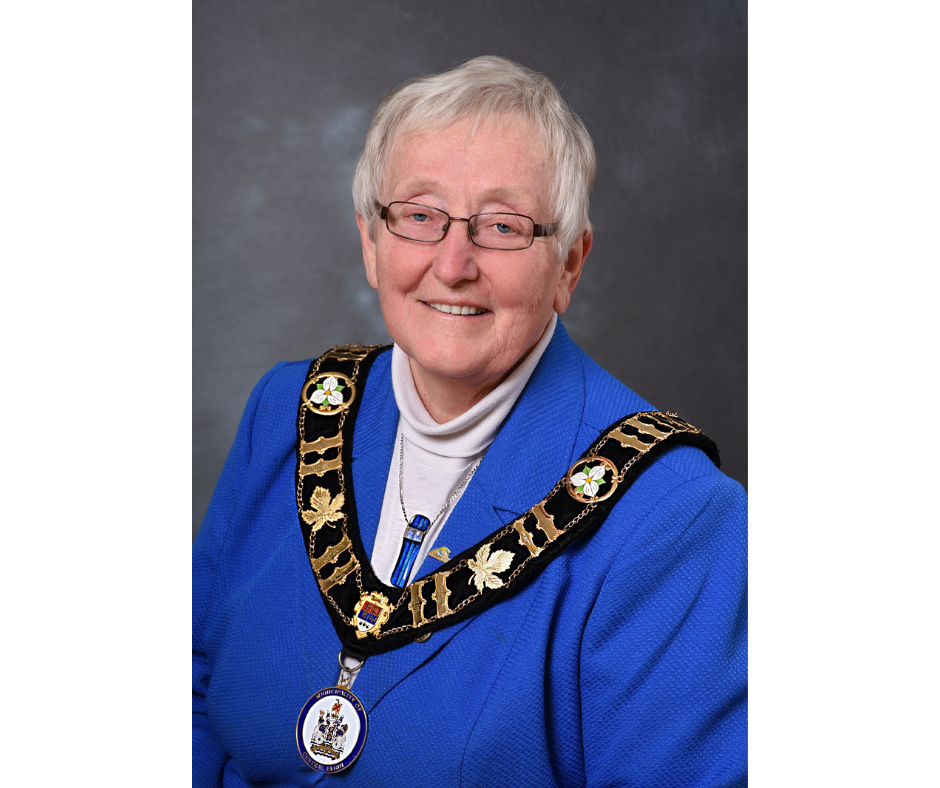 Posted on Friday, April 08, 2022 12:54 PM
Effective today, Friday, April 8, The Municipality of Central Elgin has officially ended the municipal State of Emergency that was put in place since March 21, 2020.
We recognize that the last two years have been exceptionally challenging for our residents. We are truly thankful to the local health and social service providers, essential service workers, community volunteers, neighbours, and friends who have been there day after day, providing care, support, and acts of service during these difficult...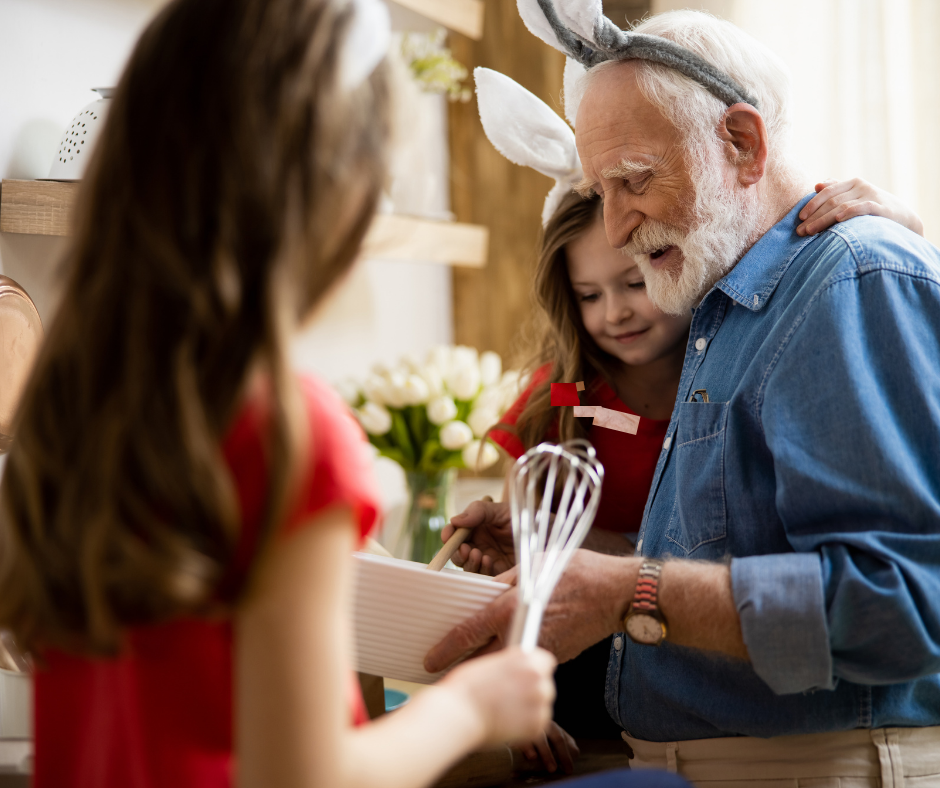 Posted on Thursday, April 07, 2022 01:13 PM
Please note that our main office will be closed on Friday, April 15, 2022 as well as Monday, April 18, 2022 for the Easter Holiday.
We want to wish you and all your loved ones a very Happy Easter!
If you have any urgent matters please call our office at 519-631-4860.
#Easter2022 #OfficeClosure
Posted on Friday, April 01, 2022 01:37 PM
NOTICE OF INTENTION TO REMOVE A HOLDING SYMBOL FROM ZONING BY-LAW 1507 OF THE VILLAGE OF PORT STANLEY
Draft Plan of Subdivision (34T-CE1801) – Kokomo Beach Club, Phase 3
TAKE NOTICE that pursuant to Subsection 36(4) of the Planning Act, R.S.O. 1990, as amended, the Council of the Corporation of the Municipality of Central Elgin may pass an amending by-law to remove a holding symbol from Zoning By-Law 1507. The earliest date on which Council proposes to meet to consider the amending By-law is...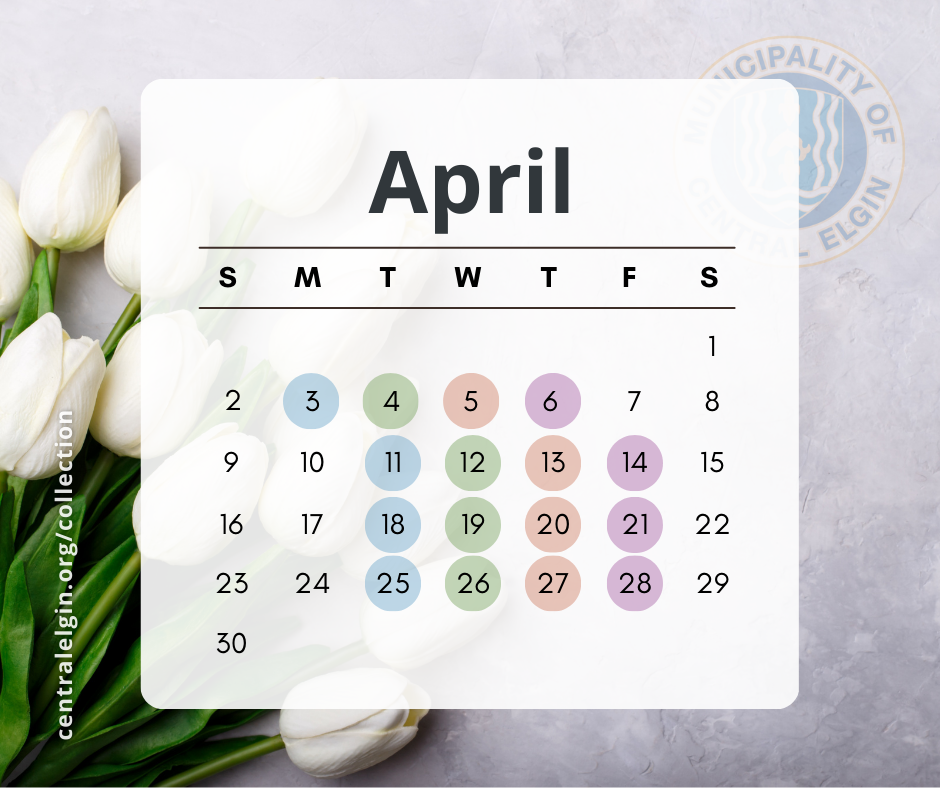 Posted on Friday, April 01, 2022 08:00 AM
As requested, here is the Collection Schedule for the month of April!
We have 2 holidays this month: Good Friday & Easter. That being said we've only changed 1 week to help our residents maintain as much consistency as possible.
If you can, make sure to remind your neighbours!
To view the full 2022 schedule, maps and more please
click here
#2022WasteCollection#2022GarbageandRecycling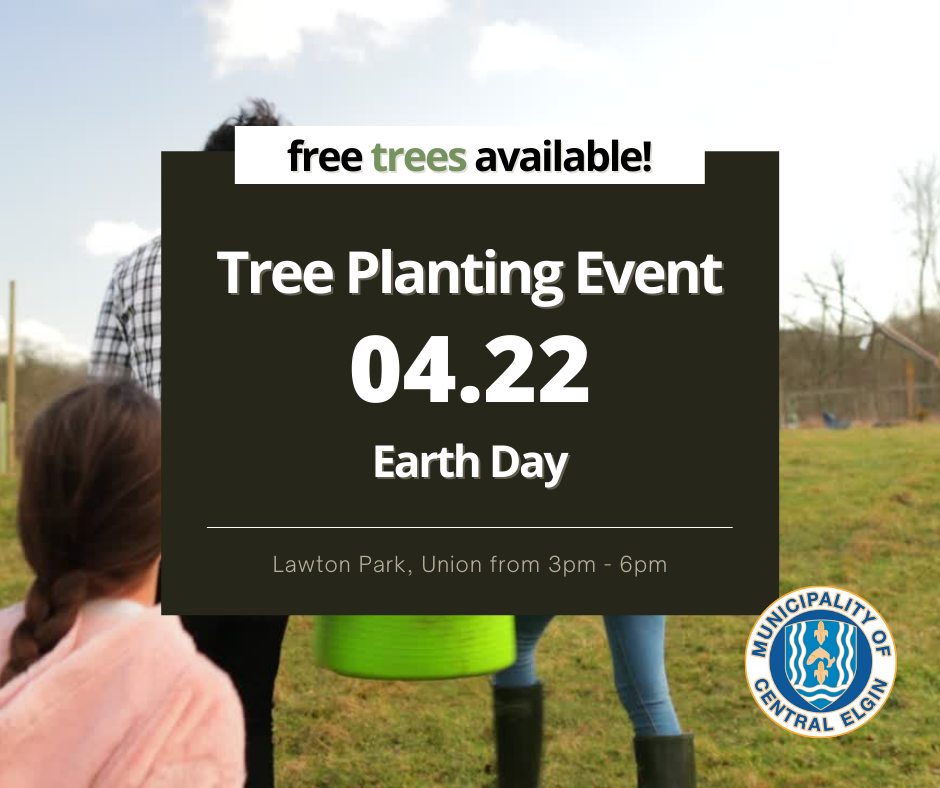 Posted on Thursday, March 31, 2022 04:02 PM
They will be planting in Lawton Park (Union), with special guest Ron Casier who will provide tips for successfully planting as well as a composting overview!
Each attendee will receive a free tree sapling (while supplies last). Saplings being offered are Freeman and Sugar Maples, Hackberrys, and American Sycamores - which are all native to this area!
Please come out and celebrate Earth...