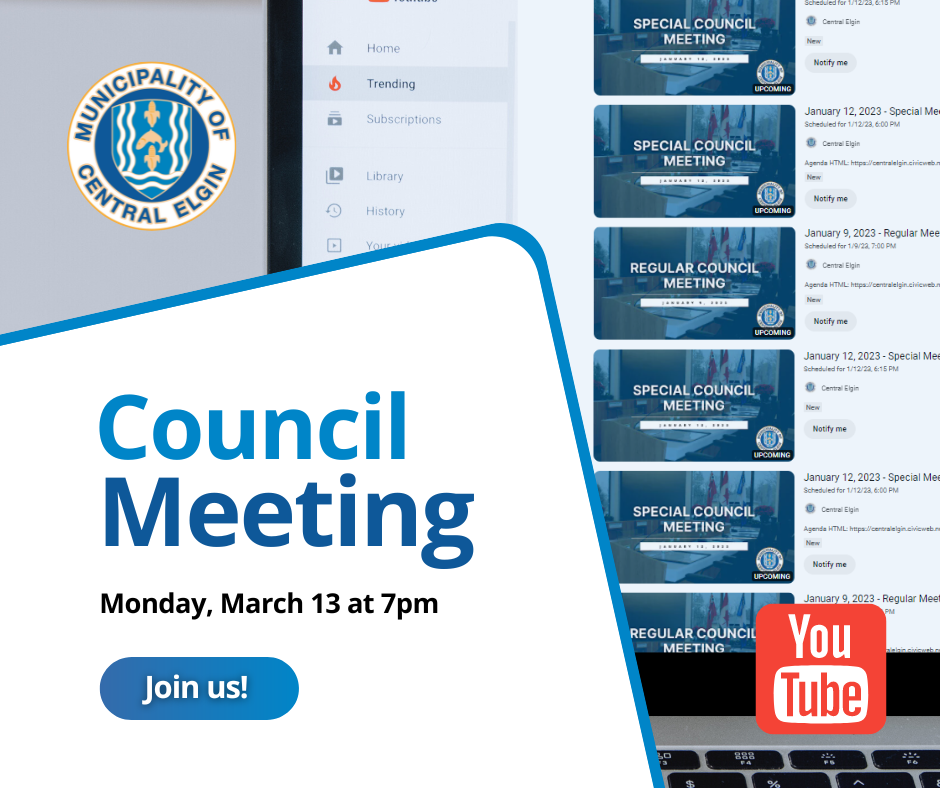 Posted on Thursday, March 09, 2023 03:38 PM
Join us Monday, March 13th at 7pm for our Regular Council meeting!Regular Council MeetingAgenda & Video Link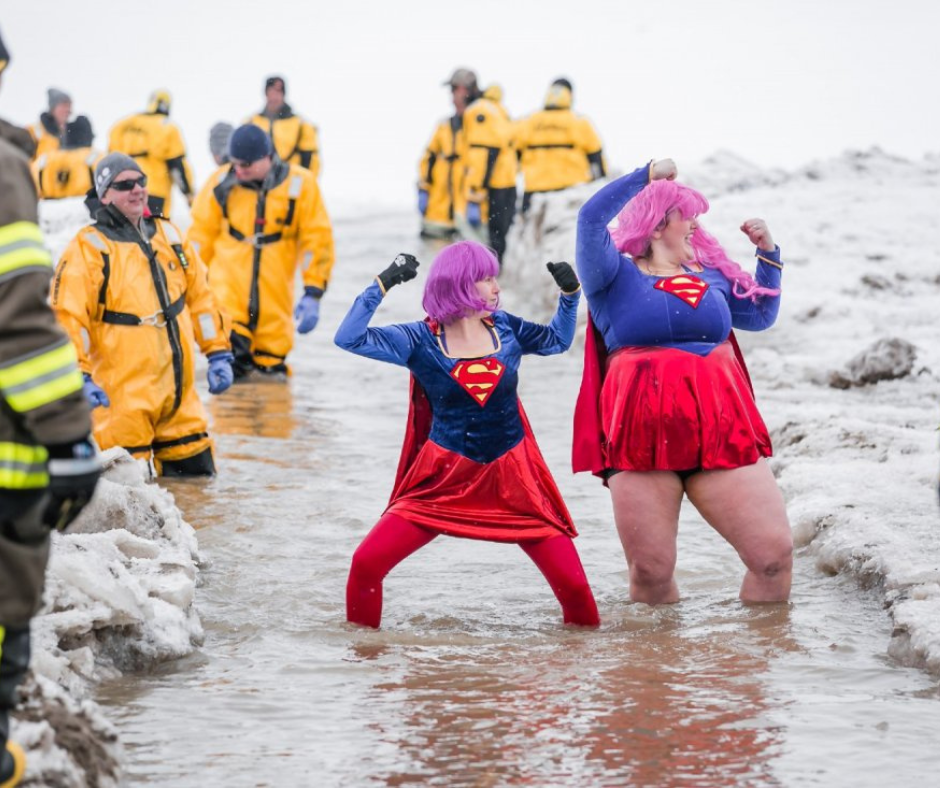 Posted on Thursday, March 09, 2023 12:43 PM
We love hearing about the exciting events happening in our community! If you have an upcoming event that you want to share with the community, be sure to submit it to our Community Events Calendar! It's a great way to get the word out and bring people together.Submitan event here orSubscribeto keep in the loop!#CommunityEvents I #GetInvolved I #ShareYourEvent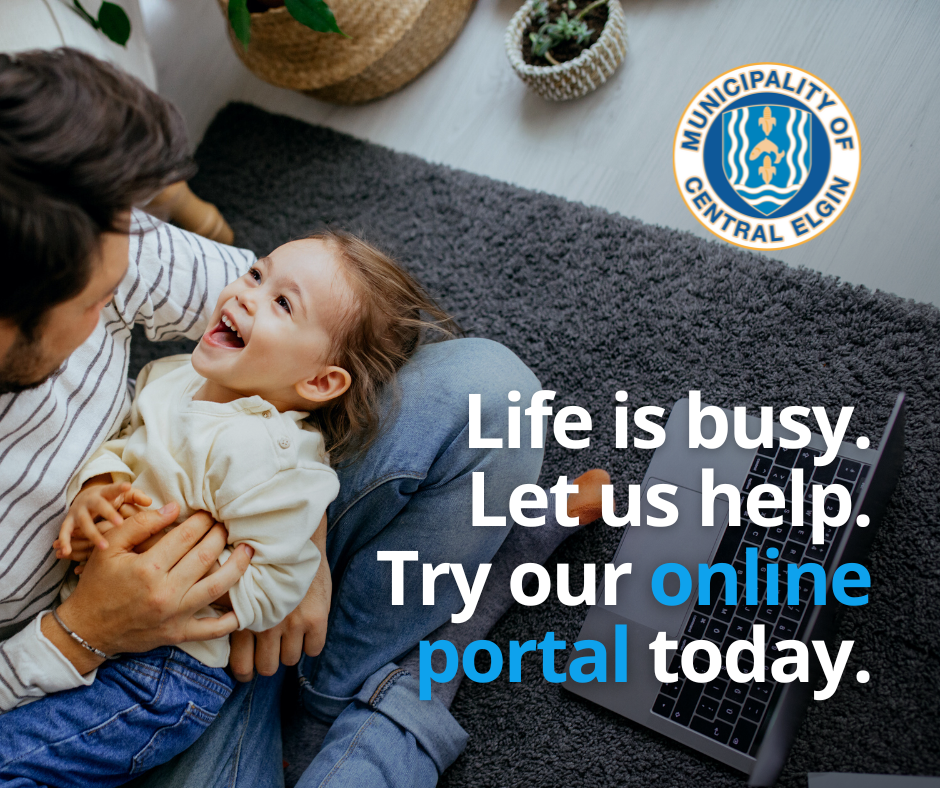 Posted on Thursday, March 09, 2023 09:39 AM
Have you registered for the Central Elginonline portal?With just a few simple steps, you can register and log in to enjoy the convenience of having secure access to your account information anytime, anywhere. Plus, our online portal is especially useful duringtax season, as it provides you with a hassle-free way to access your previous year's tax information.With more time on your hands, you can plan exciting family outings or simply relax and enjoy some quality time with your loved ones. Our...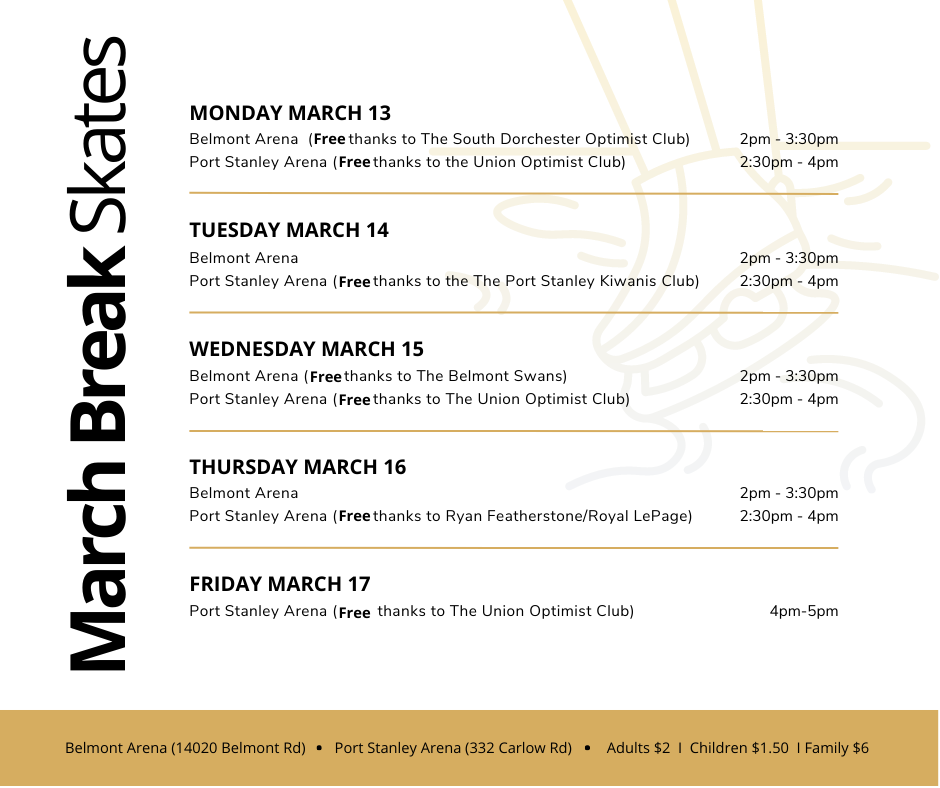 Posted on Tuesday, March 07, 2023 11:18 AM
Are you looking for a fun and active way to spend your March break? Look no further than our Belmont and Port Stanley arenas!
We're thrilled to offer public skating sessions all throughout the week, perfect for families, friends, and solo skaters alike. And the best part? Over half of the days are sponsored, which means they're completely free for the public to enjoy!
We want to take a moment to thank the following sponsors who have made these free public skates possible:
Posted on Friday, March 03, 2023 12:04 PM
Government of Canada invests in tourism recovery and community infrastructure support in London and southwestern Ontario
From: Federal Economic Development Agency for Southern Ontario
News release
FedDev Ontario supports over 20 projects to enhance public spaces and attract visitors in London, Middlesex, Elgin, Oxford and Norfolk counties
March 3, 2023 – London, Ontario
Tourism businesses attract new visitors and grow southern Ontario's economy. Accessible community spaces enhance southern...